Valley Regional High School
256 Kelsey Hill Rd, Deep River, CT 06417
The Connecticut Gilbert & Sullivan Society has chosen



for our 2018 production.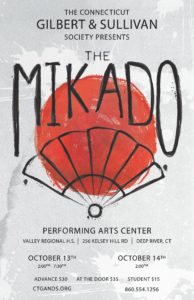 Gilbert & Sullivan's most popular comic opera, The Mikado lampoons the stuffy bureaucrats, powerful politicians and conniving plotters found in any nation, all thinly camouflaged in Japanese costume. Add in an ill-fated romance, a prince in disguise and an executioner threatened with decapitation himself, as well as glorious tunes and witty repartee, and you have everyone's favorite operetta that still delights audiences 133 years after its London premiere.
Our show dates are Saturday, Oct. 13 at 2 and 7:30 pm, and Sunday, Oct. 14 at 2 p.m.